Lighting your new home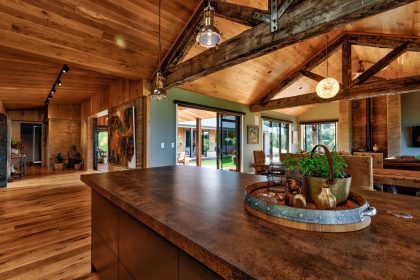 A good lighting design can make a huge difference to the function, ambiance and aesthetic of your home.
Good design is about matching light levels and colour temperature to the tasks being performed in specific locations – Think a brightly lit office space compared to a dimmed circuit in the living room. Colour temperature is measured in Kelvins(k) and usually ranges from 2700k (warm – candlelight) to 4000k (cool – daylight) in residential applications.
How you feel in a space has a lot to do with the lighting design. A well-lit restaurant is a prime example of this.
Types of residential lighting
General
General lighting is usually overhead lighting that evenly lights spaces in your home for access and general tasks. Think hallways, bedrooms and playrooms.
Task
Task lighting is bright and often directional. It focuses on areas where tasks are being performed. Think kitchen, office and toilet night lights.
Ambient
Ambient lighting is a warmer lighting for areas that require a softer atmosphere. Think living room, dining and master bedroom
Accent
Accent lighting is for adding decoration to your home. Often directional or focused lighting, it adds drama and ambiance. Think picture lighting and up-lighting to plants.
There is usually cross over with these four types of lighting. Each circuit may have several applications in a well designed installation. For example, an LED strip used in the kitchen for task lighting can also be used to accentuate a textured splashback for added drama. Dimmers are very effective to change a space from general lighting to ambient.
Simple automation can be added to your installation to create 'scenes'. The automation can change the light levels, ambiance and drama to a room as required. It can schedule night lights and garden lights to come on at certain times.
Integrated Electrical and Solar pride ourselves on premium lighting design and installs. We supply and install only quality products all of which can be viewed at our showroom at 6D Woods Road, Whangarei
Post Tags